Russia's Zvezda Shipbuilding Complex brought into full commission the country's largest new dock for ship construction on 27 December, following the successsful conclusion of an inspection by The Federal Service for Environmental, Technological and Nuclear Supervision (Rostekhnadzor).
Zvezda announced that Rostekhnadzor had certified the new drydock following a successful inspection at the end of December.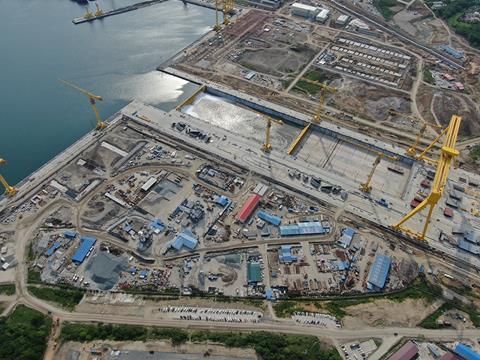 The building dock at Zvezda measures 485m in length, by 114m width and 14m depth. The dock is served by a goliath-type gantry crane, offering a maximum lift capacity of 1,200t. This is supplemented by four 60t jib cranes.
The new drydock extends the yard's scope to Arc7 LNG carriers, and other major projects such as Leader class nuclear icebreakers, ice class drilling vessels, and the production of the upper structures of semi-submersible and other offshore platforms. The dry dock is configured to permit the production of up to four units concurrently. Construction of a number of Arc7 vessels had already begun, as a hull block production workshop had already been put into operation.
Arc7 Programme advances
The opening of the drydock coincides with further progress on the construction of a series of 15 Arc7 class LNG carriers at the shipyard. Zvezda Shipbuilding Complex held a steel cutting ceremony on 24 December for the sixth ice-class LNG carrier in the series.
The 81,000dwt LNG carrier will be 300 metres long, 48.8 metres wide, and will have a cargo capacity of 172,600m3. The vessels feature GTT's Mark III membrane containment system. The propulsion system includes three azimuth propulsion units, with a total power capacity of 45 MW.
The Arc7 class LNG carriers have been designed to transport LNG in the challenging conditions along the Northern Sea Route, including its eastern sector. The vessel, along with the other 14 vessels in the series, will serve the Novatek-operated Arctic 2 LNG project under a long-term time charter agreement. The vessel is scheduled for delivery in 2024, with the final deliveries in the series expected in 2025.
Production from the first of three LNG trains at the Arctic 2 LNG project is expected to begin in 2023, with the facility expected to reach full production by 2025.