All US and foreign flag ships fitted with Wärtsilä's Aquarius UV ballast water management system (BWMS) can now operate in US territorial waters.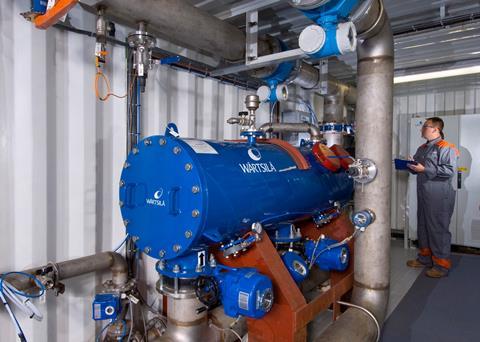 This comes as Wärtsilä was granted Alternate Management System (AMS) acceptance for its system by the United States Coast Guard (USCG).
Joe Thomas, director, Ballast Water Management Systems, Wärtsilä, said: "AMS acceptance is an important milestone in providing ship owners with a BWMS that enables true global operations, and is a key part of the Wärtsilä BWMS Partnership programme, which aims to support our customers in meeting their environmental compliance objectives."
Based on an evaluation of the Aquarius BWMS test data by the USCG, AMS acceptance has been granted for use over the full range of water salinities (i.e. fresh, brackish and sea water).
As only one of two AMC accepted systems without salinity restrictions, the Wärtsilä solution allows ships fitted with the system to operate in the Great Lakes region.
It also means ships can discharge its treated ballast water for an interim period of up to five years from the ship specific implementation date.
As part of the Wärtsilä Partnership programme, the ship owner has access to technology choice, offering filtration with either ultra-violet (UV) or electro-chlorination (EC) ballast water treatment.
Wärtsilä says it's preparing an AMS application for its Aquarius EC BMWS to provide customer with full approved technology.