The recent news that Wärtsilä was, in effect, selling a majority stake in its two-stroke engine business to China's state shipbuilding concern came as rather a shock to many in the industry.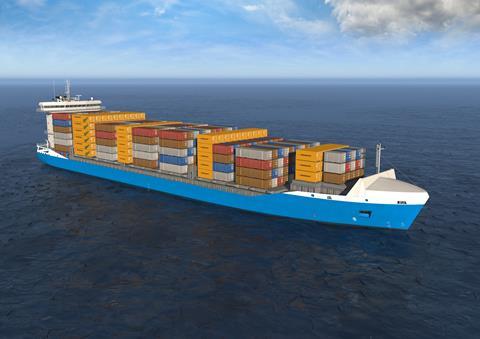 After all, Wärtsilä concentrates on design and development, rather than manufacture, as far as its two-stroke portfolio is concerned, and despite the volume of output, China has not been noted for taking a lead in shipbuilding technology up to now – though the signs are that things are moving forward rapidly.
We took the opportunity at SMM in Hamburg to speak to Rolf Stiefel, head of two-stroke sales at Wärtsilä, about the deal and the future of the low speed business.
The business area has its roots in the large engine division of Sulzer Bros of Winterthur, Switzerland. In 1997 the business was acquired by Wärtsilä and Fincantieri of Italy to create New Sulzer Diesel. In 2006 NSD became wholly owned by Wärtsilä. However, despite Wärtsilä being a Finnish company, the two-stroke business remained headquartered in Winterthur, while the former Fincantieri GMT engine plant in Trieste, Italy, saw the development of large dual fuel engines – including the gas fuelled two-strokes. So now, following its various different ownerships, the former Sulzer business is likely to take on yet another identity now that it is 70% Chinese owned.
However, it will only be the identity that may change, Mr Stiefel assures us. The two-stroke business will continue to be run from Winterthur, and research, development and design will carry on as before in Switzerland. The plans are that subsidiaries will be established in China, Korea and Japan.
The service side of the two-stroke business will remain totally under Wärtsilä ownership and control. The existing management will remain in place, and whatever name is given to the joint venture company, which is expected to start operation by the end of 2014 when regulatory approvals are granted, the Wärtsilä brand will remain.
The rationale behind the new two-stroke technology and licensing joint venture with China State Shipbuilding Corporation (CSSC) is primarily to increase volume and lower the cost base. With almost all ships using large two-stroke engines now built in the Far Eastern region, and with China accounting for a high proportion of those, Mr Stiefel says it makes a lot of sense to do whatever Wärtsilä can to improve access to the Chinese market. The merchant shipbuilding engine market is highly competitive, despite the small number of players, and with Wärtsilä's current market share of around 10% to 15% there is an excellent opportunity to build on the company's good reputation and strong links with China in order to improve that share.
"The market needs more actual competition, which is not really there now," Mr Stiefel told us.
By increasing volume, the new joint venture will be able to lower its cost base and thus achieve further penetration into this important market. The necessary technology is there, says Mr Stiefel, with a product portfolio well suited to the current and future market demands – including dual fuel gas engines – so with stronger local sales and support the expected growth seems assured.
The new joint venture company will continue in much the same way – licensing the Wärtsilä two stroke designs for newbuild projects. Although Wärtsilä owns 30% as against CSSC's 70%, Mr Stiefel says that Wärtsilä will be a true partner, with a significant operational role. CSSC has been a long-term partner of Wärtsilä in several of its previous incarnations, having been a licensee since 1978. Additionally, Wärtsilä has a long history of cooperation with the Chinese, with four-stroke and propeller joint ventures in addition to the two-stroke agreements. A series of smaller-bore two-stroke designs was launched specifically for the Chinese domestic market, although the take-up had not been as high as hoped, because of the changing economic and environmental climates.
Mr Stiefel does not see the Chinese majority ownership of the Wärtsilä two-stroke business as a barrier to new, Western-developed, technology. We asked him if, for example, the low pressure dual fuel two-stroke concept would have been developed if the joint venture had been already set up. "Definitely," said Mr Stiefel. "Our experience with the Chinese are that they are very interested in new technology, and Wartsila's experience and expertise gives them access to such technologies. If anything, the Chinese investment and the desire to grow and become leaders rather than followers will ensure that new designs and technologies are quicker to the market."
Mr Stiefel added that the joint venture may even have allowed the dual fuel two stroke engine to have been launched sooner, thanks to the levels of investment and the Chinese interest in leading-edge technology driven by international regulations.
The RT-flex 50DF, the first in Wärtsilä's LNG-fuelled two-stroke engines, has recently picked up another order from a Chinese shipbuilder, making the third reference for the technology in China. An order for two 15,000dwt dual-fuel product tankers placed by the Swedish Terntank Rederi company with the Chinese Avic Dingheng Shipbuilding Co has been increased to four ships following the exercising of an option. This was followed by an order for a five-cylinder RT-flex50DF engine for a new 14,000m³ LNG carrier being built for Chinese owner Zhejiang Huaxiang Shipping at the Qidong Fengshun Ship Heavy Industry shipyard.
The third, and largest so far, RT-flex 50DF order is for engines to power a series of at least four 1,400teu container ships for German company GNS Shipping, and which will be managed by Nordic Hamburg. These will feature seven-cylinder RT-flex50DF main engines, and will be built at the Yangzhou Guoyu Shipbuilding yard in China. These will be the first container ships to use the two-stroke low pressure, dual-fuel technology, and when delivered will be chartered by Containerships Oy of Finland.
Mr Stiefel stresses that, unlike the other dual-fuel two stroke technology on the market, the Wartsila system is able to meet IMO Tier III emissions limits on gas fuel with no additional equipment like SSCR or EGR. "When our two-stroke, low pressure, DF technology was introduced we knew that we had gone beyond merely extending our DF engine portfolio. This is an engine that really makes a positive difference to the global shipping sector. It not only meets the Tier III requirements when operating with gas fuel, but it also offers considerable CAPEX and OPEX savings. It is truly an engine that fits the needs of today's market," he said.
The DF two-stroke technology can also be applied to the long-stroke Generation-X series engines, and the first order for the LNG-fuelled version of the X62 engine has come following the choice of this unit, in six-cylinder format, as main propulsion for two new large 180,000m³ LNG carriers being built by Samsung in Korea. They will be chartered by French oil company Total.
Wärtsilä regards this as a milestone order, being the first large LNG tankers featuring its two-stroke dual-fuel technology. The company says it has supplied many of its four-stroke dual fuel engines, which use similar low pressure gas systems, to this market, which makes use of cargo boil-off gas as fuel, and thus offers a logical application for LNG power. These ships will also feature Wärtsilä 34DF auxiliary gensets.