Future Proof Shipping's inland container ship, the FPS Maas, has arrived at the Holland Shipyards Group ready for a retrofit that will see the vessel's diesel engines replaced by a hydrogen and fuel cell propulsion system.
The PEM fuel cell system will produce electricity to deliver approximately 825 kW for ship propulsion and auxiliary power. It will be installed in the cargo space of FPS Maas. The system will also feature a 504kWh lithium ion battery pack for peak shaving, secondary and bridging power.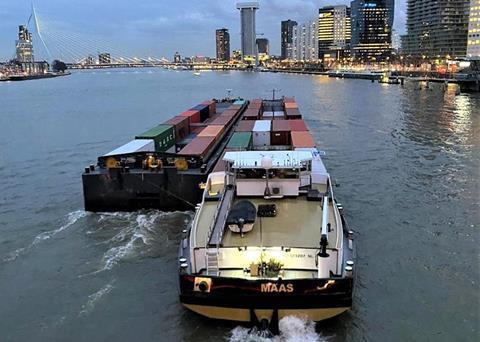 FPS has trialled the technology and benchmarked energy consumption as the 110-metre FPS Maas carried containers along the Rhine River between Rotterdam and Belgium.
Once operational, Air Liquide will supply carbon-free hydrogen through specially designed multi-modal hydrogen storage suited for inland barges.
The project partners include BCTN Network of Inland Terminals, Holland Shipyards Group, Koedood Marine Group, Nedstack Fuel Cell Technology, Kooiman Marine Group, and Air Liquide.
The project is supported by grant funding from the Interreg North Sea Region Programme (Zero Emission Ports North Sea - ZEM Ports NS), Netherlands Enterprise Agency (RVO), Port of Rotterdam and Expertise- en InnovatieCentrum Binnenvaart.
Future Proof Shipping has recently acquired two more container vessels FPS Rijn and FPS Waal to add to its inland shipping fleet and they will also be converted to be zero-emissions vessels. The power capacity, size and design of the propulsion system for the FPS Waal will need to be optimised to handle the higher energy consumption rates on the Rotterdam to Duisburg section of the Rhine.
During the retrofit, the internal combustion engine will be removed, and the new zero-emissions propulsion system including PEM fuel cells, hydrogen storage, battery packs and an electric drive train will be installed. The total amount of power installed will be around 1200kW and the vessel will have a cargo capacity of 200 TEU after the retrofit.
Future Proof Shipping has already been in discussions with several cargo owners interested in shipping their containers without emissions on this route and who are aiming to move a large part of their sea cargo to inland water transportation.
"We are deploying our second zero-emissions vessel here to help decarbonise this busy stretch of 240 kilometre inland waterway. This route is longer and has significantly higher and varying power demands than the route for the FPS Maas, pushing this project team to elevate their innovation efforts considerably. These are new challenges that we are ready to take on together with the FLAGSHIPS team to blaze a new trail towards zero-emissions inland shipping for all," said Richard Klatten, CEO of Future Proof Shipping.