The 2022 Propulsion and Future Fuels conference opened with a discussion about the upcoming introduction of OPS (onshore power system) at the EU's Core Ten-T ports by 2030.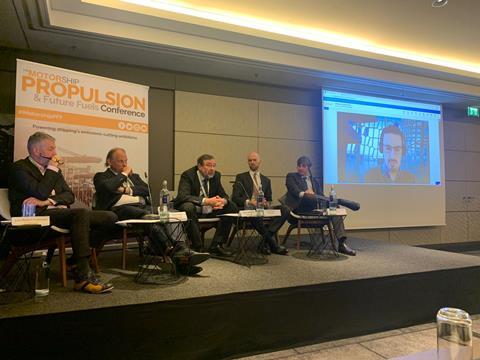 The panel brought together Torsten Schramm, President Maritime, DNV, Martin Kröger, the ceo of the VDR (German Shipowners' Association), Valter Selén, a Sustainability Advisor from ESPO, and Kai-Dieter Classen, Deputy Director External Affairs at the Hamburg Port Authority (HHA).
The panel opened with a discussion by Ricardo Batista, Policy Officer, Directorate-General for Mobility and Transport European Commission of the EU's proposals to introduce OPS requirements for Core Ten-T ports within the EU by 2030.
Kai-Dieter Classen, Deputy Director External Affairs at the Hamburg Port Authority (HHA) shared the port of Hamburg's experience as an early adopter, with the port investing over EUR100 million in the electrification of its container terminals, which is expected to be completed by 2028.
However, Classen noted that the high cost of electricity represented a barrier to adoption, with demand from customers lagging behind the installation of supply, which had been enabled by generous national grants.
The challenge of developing commercial models for OPS supply would be helped if the EU committed to extending the current tax-exempt status on electricity supplied over the longer term.
The issue of penalties was raised by Martin Kröger, who noted that there was a risk that ship operators might be declared to be non-compliant if shore power connections at the port are unavailable or not functioning as a particular issue. Batista responded that the regulations had been designed to encourage the adoption of zero-emission at berth technologies more widely, rather than narrowly focusing on OPS adoption.
The decision to apply a zero CO2 emission rating to electricity supplied via an OPS was similarly deliberate, although the regulations might allow subsequent modification to recognise the carbon footprint of the electricity generated, Batista explained.
The panel identified issues related to the installation of electricity capacity and as well as grid infrastructure availability in TEN-T ports' hinterlands as key areas of focus in the proposals. Selén called for the EU to include these issues in its FuelEU Maritime proposals.
Uncertainty about the future demand for electricity at a port level was identified as a key vulnerability for ports seeking to attract investment into expanded grid connection capacity.