DNV's latest Maritime Forecast to 2050 models future fuel availability to assist decisions on ship design, operations and infrastructure developments.

Content from our commercial partners
Find out more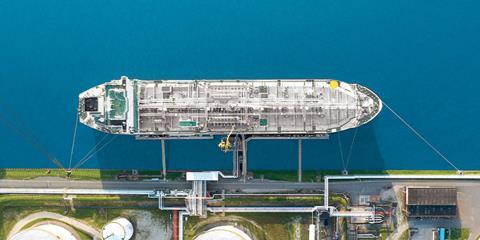 "The energy and technology transition in maritime is gathering pace but has far to go to meet even the IMO's initial decarbonization ambitions for international shipping. For one thing, supply chains will have to change dramatically to make sufficient carbon-neutral fuels available where and when they are needed." Eirik Ovrum, Maritime Principal Consultant at DNV and lead author of Maritime Forecast to 2050 reflects.
Which resources are needed to reduce CO2 emissions?
"Our latest Maritime Forecast to 2050 report investigates which carbon-neutral fuels are likely to be available for large-scale maritime use," Ovrum continues. "We find a need for strong collaborative initiatives with and beyond the sector to maximize opportunities and reduce risks of the coming fuel transformation."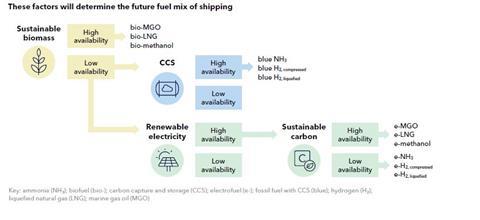 Sustainable biomass would be the preferred fuel in an ideal world, mainly because it is relatively easy to convert to energy-dense hydrocarbon fuels such as bio-LNG, bio-methanol, and bio-MGO. Other hard-to-abate sectors like aviation will also want energy-dense hydrocarbons, however. If supply cannot meet demand, sustainable biomass could be expensive compared with electrofuels and blue fuels.
Maritime Forecast to 2050 applies their enhanced model of the development of the global fleet to investigate how the future fuel mix will be affected by the availability of sustainable biomass, renewable electricity, CCS for making blue fuels, and sustainable carbon.
The report also assesses fuel costs by region, and how regional fuel production and infrastructure impact the future fuel mix.
Which alternative fuel technologies will be available when?
Maritime Forecast to 2050 also presents an updated timeline showing current and anticipated maturity levels of several onboard fuel technologies between now and the mid-2030s. Technology readiness levels (TRLs) ranges from validated (TRL 4) to those available from one or more manufacturers (TRL 9).
Using new fuels and fuel technologies will require all maritime industry stakeholders to focus increasingly on safety and to develop and implement relevant safety regulations.
How much will decarbonization cost?
About 5% of energy for shipping should come from carbon-neutral fuels in 2030.
Maritime Forecast to 2050 estimates that USD 8 billion (bn) to 28bn additional total investment per year will be needed just on ships to achieve decarbonization by 2050. USD 30bn to 90bn per year would also be needed to scale onshore production, fuel distribution, and bunkering infrastructure sufficiently to supply 100% carbon-neutral fuels by mid-century.
"The scale and scope of the challenge mean we absolutely need strong alliances to push development of fuel supply chains," concludes Ovrum. "Charterers, energy majors, fuel suppliers, governments, ports, and shipowners should collaborate to ensure adequate funding for the right projects. It could spell opportunity for first movers to launch projects making large volumes of alternative fuels available where and when needed. Green shipping corridors can help to unlock this opportunity and reduce the risk of infrastructure obsolescence as the fuel mix shifts."