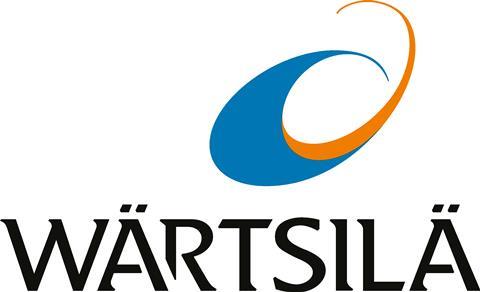 Without immediate action in the form of retrofits or power limitation, much of today's global fleet faces the prospect of non-compliance with the IMO's Carbon Intensity Indicator (CII) regulations, which enter into force in January 2023. Fleet owners face the additional risk of stranded assets caused by uncertainty around the availability, quality and price of future fuels. For vessels with electronically controlled two-stroke engines, a ground-breaking injection technology from Wärtsilä could be the answer to all these challenges.
Vessels propelled by 2-stroke engines account for 80% of total emissions from the global maritime fleet, and with CII looming on the horizon, vessel owners have a stark choice: act now or risk the prospect of non-compliance. Along with additional initiatives such as the Poseidon Principles and the Sea Cargo Charter, it's clear that pressure to decarbonise is coming from all sides. What's needed is a solid platform that allows owners to take immediate action to ensure compliance while bringing the flexibility to adopt fuel blends and eventually green future fuels such as green ammonia and green hydrogen. This is where Wärtsilä is breaking new ground.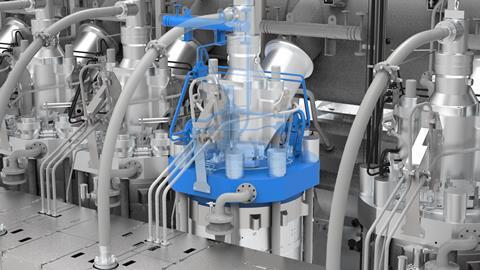 An industry-first concept to enable future-fuel transition
The Wärtsilä Two-Stroke Future Fuels Conversion Platform is a revolutionary new retrofit fuel injection technology and combustion concept that combines the benefits of Diesel and Otto cycle technology. It requires no bulky fuel supply equipment, has low et energy demand and minimises methane slip, providing a viable and flexible pathway towards a decarbonised future. It also increases the commercial value and lifetime of existing vessels in the process.
"We have been working on this for around two and a half years now and have successfully moved away from the pre-mixed combustion, typically seen in Otto cycle, to diffusion combustion, which is characteristic of the Diesel cycle," says Sangram Nanda, General Manager, 2-Stroke Product Management & Engineering, Wärtsilä Marine Power. "We looked at the greenhouse gas emissions impact of the whole platform, not just the engine itself," he continues. "What sets this solution apart is that the fuel supply system is extremely simple because all the fuel preparation happens on the engine."
Wärtsilä's development programme concluded with successful initial engine tests at its two-stroke engine laboratory in Trieste, Italy, and tests on a single cylinder were expanded following the conversion of the test engine early in 2022.
Instant emissions reduction and a rapid return on investment
The conversion allows use of LNG, a well-established and widely available maritime fuel with mature legislation frameworks and robust bunkering infrastructure, and also has the flexibility to handle methanol or ammonia. Switching to LNG instantly and drastically cuts emissions compared to fuel oil – including reducing NOx emissions by up to 70%, SOx by up to 99%, particulates by up to 70% and CO2 by up to 30%. But emissions reductions are only one side of the story. Based on current fuel prices, a future-fuel conversion for two-stroke engines to future fuels brings substantial economic benefits too. For typical larger vessels (for example a 10,000–13,000 TEU container ship) consuming 30,000 tons of liquid fuel per year with a 10-year remaining lifetime, the conversion is a sound investment with a payback time of less than four years.
"In addition to LNG the platform can handle methanol or ammonia and the higher volume of diesel needed for their combustion with only minor modifications," explains Nanda. "The aim is to enable ship operators to switch between fuels with minimal effort. This could mean sailing on LNG on one route then switching to ammonia or methanol for a different operational profile when bunkering of those fuels becomes available," he continues.
A simple, safe and quick way to ensure long-term CII compliance
The solution uses cryogenic LNG at -150oC, which is supplied directly to the engine at low pressure. This is followed by on-engine amplification before being injected into the cylinders at medium pressure. Using cryogenic LNG reduces the complexity and energy consumption of the overall fuel gas supply system compared to normal LNG operations, where LNG is heated to around 40oC before injection. This eliminates the need for expensive, energy-intensive and high-maintenance equipment between the fuel tank and the main engine. As well as reducing complexity, the solution minimises the footprint of the fuel supply system to provide greater flexibility for retrofitting. The system also offers redundancy with backup VLSFO or MDO/MGO fuels.
"As an added bonus, prefabricated, preassembled engine component modules mean that installation is a simple process where no off-hire is needed beyond the usual dry-docking time," says Stam Achillas, Head of Business Development & Sales, 2-Stroke Fuel Conversions. "Also, no major changes to the engine are required beyond new cylinder covers and add-on components."
The conversion can also be combined with the installation of energy-saving technologies like hull air lubrication, a gate rudder or rotor sails to maximise efficiency gains. This will be important as future fuels will be more expensive than fuel oil, at least initially, and may require more storage space on board. Energy-saving technologies can enable a further 5% reduction on top of the CO2 reductions enabled by the conversion.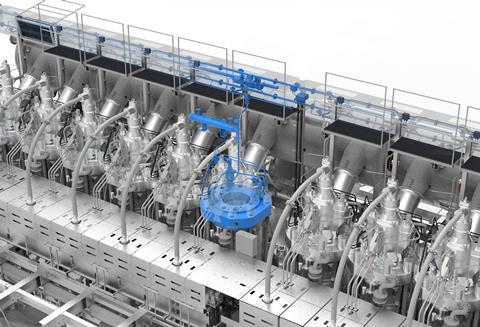 Wärtsilä can specify and deliver the full spectrum of fuel conversion solutions for merchant ships including fuel gas supply and storage systems, main and auxiliary engine conversions, and boil-off-gas management and safety systems.
A concrete first step towards net zero
MSC Shipmanagement – which regards the platform as a supporting element in its journey towards net zero decarbonisation by 2050 – has been a key partner throughout its development, with a system expected to be installed onboard one of the company's larger container vessels by the end of 2022 for technology demonstration purposes. Wärtsilä expects the first commercial conversion project to be completed by mid-2023.
In addition to extending the remaining life of the vessel and increasing its market value, the solution shields owners and operators from future carbon taxation or increases in port fees. And, as well as enabling long-term CII compliance, it also safeguards investments against upcoming requirements such as the EU's Fit for 55 package. The conversion can boost profitability through increased charter rates under the Sea Cargo Charter framework, and also opens the door to improved financing conditions under the Poseidon Principles.
"Newbuilds alone cannot solve the challenge of maritime decarbonisation, and it would be illogical to scrap the thousands of vessels in the existing fleet that will still sail in the 2040s," explains Achillas. "The Wärtsilä Two-Stroke Future Fuels Conversion Platform is a way for owners to do something now, today, by slashing their emissions and taking concrete first steps on their future-fuels journey in preparation for net zero operations."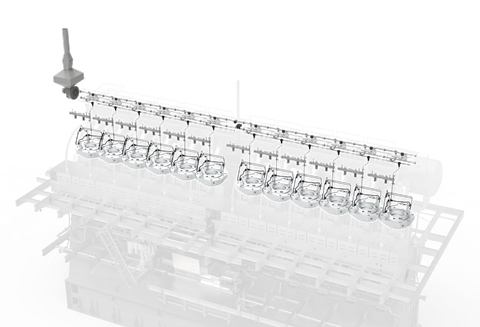 Websites
We are not responsible for the content of external sites